"You are only as free as you are aware"
Niti Express: Yeh Kahani Haq Ki Hai (Niti: policy/norm; Yeh Kahani Haq Ki Hai: this is a story of rights), is our ambitious and ongoing attempt to use the medium of story-telling to spread awareness about ideas that affect the common man intimately- ideas that decide his health, wealth, happiness and dignity.
In Phase I of the project, we partnered with Radio Mantra 91.9 FM to air the stories and engage the listeners in a discussion in 9 cities where Radio Mantra had about 4 million listeners. Now we are preparing for Phase II to start in Nov 2016.
Niti express is a promotions and outreach program that uses stories to explain legal rights and policy ideas to the common man.
The Need
"You cannot fight for your rights, if you don't know what they are." – John G Roberts
Despite producing a mammoth 7.5 lakh engineers and 30,558 doctors among the 50 lakh of graduates every year, India ranks a dismal
(a) 130 of 188 on the 2015 Human Development Index;
(b) 128 of 178 ("mostly unfree") in Economic Freedom;
(c) 19 of the G- 20s in welfare of children and gender equality (2016);
(d) 14 of the G-20s in general safety (2016)
The reason for the inability of our policies to deliver better is that vast majorities of the people that dictate the political fate of India- and hence the policies adopted by the government- lack an understanding of their rights, how better democracies and republics work, the hidden dimensions of the country's socio-economic issues and the efficiency of various policy solutions. Political apathy continues and a better life for all will be a faraway dream unless this gap in the public knowledge is immediately addressed through an innovative attempt that reaches both the educated and the uneducated sections of the society.
Niti Express- The Idea and Concept
Stories that are interesting are easy to understand and connect with, and have a high recall value. India has a rich oral tradition of passing down ideas, values, and cultural norms through stories from one generation to the next. That is proof that well- crafted stories in the hands of a good story-teller is a powerful medium to communicate ideas, and engage with and educate people on even complex ideas surrounding public policy issues and law.
Our stories revolve around legal, political and economic concepts. They cover themes such as economic principles, personal rights guaranteed by the constitution, natural individual rights, private property rights, choice and other free- market principles. Knowledge of these topics will empower and transform the common man into an informed citizen, the backbone of a strong free country.
Niti Express uses short stories and nano tales in multiple formats, primarily the light weight and universally understood audio and video formatsthat can be quickly streamed, downloaded or forwarded to others. The stories are riveting and perfected to hold a high recall value, and provide real life context for easy understanding of complex ideas that are often confusing for many people. They are also an excellent advocacy tool as they take just a few minutes to set a powerful context in any meeting with policy/ decision makers.
Niti Express Phase I Highlights
Mantra Haq Se campaign
15.01.2016 – 26.01.2016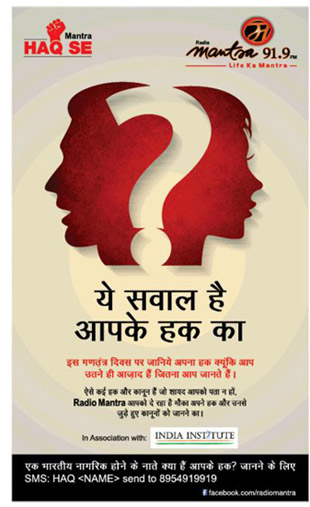 A classic example of the power of Niti Express approach is the Mantra Haq Se initiative, a radio program featuring nano tales (recitation time of about two minutes) on personal rights aired in 9 cities on Radio Mantra 91.9 FM, our radio partner for Phase I, between 15 and 26 January, 2016. Radio Mantra is a leading Hindi FM channel of the Jagran media group present inJalandhar, Agra, Bareilly, Faizabad, Gorakhpur, Hissar, Karnal, Ranchi and Varanasi.
Each story was followed by a discussion with an expert from a roster of well-known domain experts and activists. The program was so well received that the once a day broadcast was soon made into a thrice a day broadcast (repeat). On 26th Jan, India's Republic Day, the show was aired for 6 hours. About 1200 listeners engaged with the RJs by commenting or posting questions about the broadcast via SMS.
On-ground activity
27.01.2016
An on- ground activity organized by Radio Mantra in collaboration with India Institute (as a knowledge partner) at CT Group of Institutions, Jalandhar, Punjab, on 27th January 2016, was a great success. The MBA students performed stunning skits for the rest of the students based on three of our stories. This was followed by a very open interactive session with the students on rule of law and how individuals can protect their liberty.

Niti Express on the Internet
Season 1: 20.05.2016 –22.07.2016 (One story. Every Friday)
Every Friday, we brought 10 insightful, enlightening and liberating Niti Express nano tale to the Internet at http://bit.ly/2bEUPkQ (http://www.youtube.com/c/IndiaInstituteTV). These are in video format with slides in English explaining the concepts told in the Hindi audio.
Click here: http://indiai.org/niti-express-nano-tales/